Vacuum cleaner for animals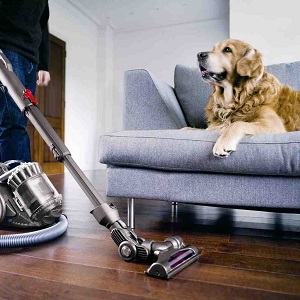 For owners of pets , an additional criterion must be taken into account when choosing a vacuum cleaner: it must be adapted to your small companions. Several brands are beginning to find specialized models for the extraction of animal hair.
Attention, all vacuum cleaners marketed under evocative names like "Animal Care" or "Cat & Dog" are not necessarily perfectly adapted to this task.
Conversely, one should not automatically eliminate a vacuum cleaner that would not make it clear his ability to suck animal hair in his name, but that would offer interesting features.
Summary:
Purchase guide
Comparative of animal vacuum cleaners
The best animal special vacuums
How to choose a vacuum cleaner suitable for animals:
This guide will help you choose a vacuum cleaner that will cohabit as harmoniously as possible with your animals.
1. A quick reminder of the performance
It is not because you are looking for a pet vacuum that you have to forget about the classic criteria that make a vacuum cleaner a good model. Whatever your need, good suction performance is essential.
If you have not already read it, you will find in our general buying guide all the important points in choosing a good vacuum cleaner.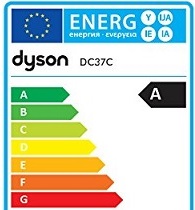 In summary, the energy label that is mandatory today provides clear information on the performance of a vacuum cleaner, in addition to energy efficiency two very useful points:
The cleaning performance on carpets , rated from A to G.
The cleaning performance on hard floors , rated from A to G.
This information is based on tests under conditions controlled by a regulation, and thus allow you to have reliable information to compare the vacuum cleaners which interest you between them.
These notes allow a first selection of vacuum cleaners depending on the types of soil in your home.
2. Accessories for picking up animal hair
A good suction power is essential, but it is not always enough to pick up animal hair that nestles everywhere, especially in carpets and rugs. To facilitate the collection of these dog or cat hair, the majority of pet vacuum cleaners have at least one suction head with a mechanized brush .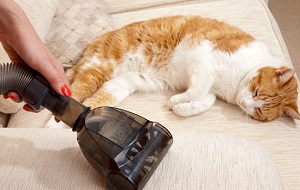 Mini turbobrush
This is usually a turbo brush , which is driven by the airflow. One can also find even if it is more rare an electro-brush , which is set in motion by an electric motor: a separate electrical cord connects to the sled to provide the power supply.
In any case, the moving brush makes it possible to thoroughly clean the tissues, and to extract both dust and animal hair. They are sometimes self-detangling, which can be useful for the suction of hair or long hair.
There are two types of turbobrushes:
The large turbo-brushes, sometimes called " maxi turbo-brushes ": they have a width close to that of standard brushes (about 30 cm). They are intended for cleaning floors, and allow to cover large areas without wasting time.
The mini turbo brush , which are smaller: they are provided for cleaning sofas, cushions, curtains, bedspreads, etc … Light and handy, they facilitate the removal of pet hair on furniture or any objects Fabric.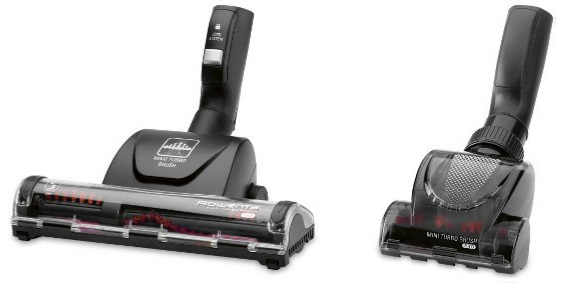 Turbobrush and Rowenta mini-turbo
If you own a lot of rugs or carpets, and an animal that loses its hair, the turbo brush is an almost essential accessory. The mini turbo brush is a small accessory that can also be practical when the traditional long suckers and soft brushes are not enough.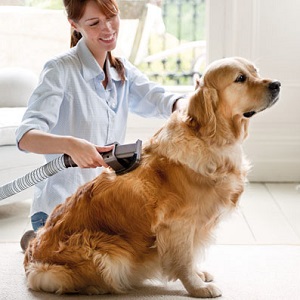 Finally this list of accessories would not be complete without the grooming brushes , which are designed to brush and vacuum directly the hairs of your favorite pet.
This type of accessories is more rare (and requires a very patient and cooperative animal!), But allows to suck the hair on the point of falling, directly on the coat, and therefore before they scatter in your home.
A classic example is the Dyson Groom brush , which can fit on Dyson vacuum cleaners.
3. The sound level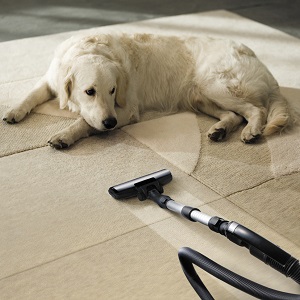 The sound level of a vacuum cleaner is always an important choice criterion, and it becomes even more so when you have animals. Vacuums too noisy indeed have a tendency to terrify dogs and cats, so do not add more.
It is now mandatory for manufacturers to indicate the sound level of their products on energy labels.
Good pet vacuum cleaners have a sound level below 70 dB, which is more bearable for everyone (including humans!).
There are more bagged vacuum cleaners than bagless vacuum cleaners in this category, so most "special animal" models work with bags.
4. Filtration level and hygiene
When you have a pet, it is best to choose a vacuum cleaner with a high level of filtration to purify the air. This is even more true for people with allergies or asthma, since the hair and dust brought home by your little companion can carry allergens and bacteria.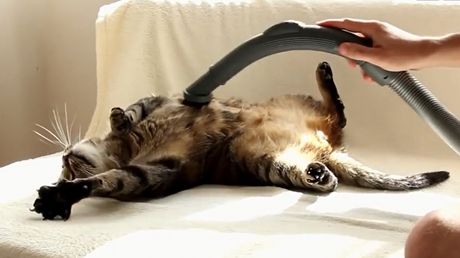 Deep cleaning to avoid allergies
To help you in your choice, the level of dust filtration is information indicated in the energy label. The best models, rated A, usually have a HEPA filter .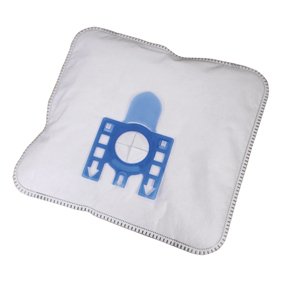 Some pet vacuum cleaners are additionally equipped with odor filters , which is important to avoid the bad smell of animals that can appear over time.
For reasons of hygiene , it is also necessary to avoid coming into contact with its dust when emptying the bag or the tank.
For this, good pet vacuum cleaners have an automatic closing system of the bag when you open the hood, to prevent the accidental release of dust (for models with bags), or a system allowing the opening of the tray at the touch of a button , so you do not have to touch the contents of the tray (for models without bags).