Choosing your Handheld Vacuum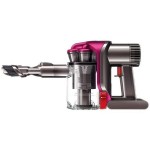 A hand-held vacuum cleaner , also known as a "wireless vacuum cleaner" or "table vacuum cleaner", makes it easy to clean tables, keyboards, furniture, cars, etc.
Handheld vacuums run on battery power, and are infinitely more maneuverable than conventional vacuum cleaners, although their suction power is of course much lower, and their autonomy limited (about 10 minutes in general, before needing to be reloaded).
Common uses of a hand vacuum include:
The collection of crumbs on a table : it is the use of type "vacuum table". There is no need to use a big vacuum cleaner, with the hand vacuum you can pick up the crumbs in just a few seconds.
The suction of the interior of a car : hand vacuums allow access to every nook and cranny, between the seats, on the ground … Because of their small size, these vacuum cleaners can also be used in place of conventional vacuum cleaners for cleaning boats.
The cleaning of furniture, sofas and armchairs , or other everyday damage. For example, you can use the hand vacuum to clean the hair that your dog or cat has left on the chair. Some handheld vacuums are equipped with rotating brushes (the equivalent of the turbo brushes of conventional vacuum cleaners) which make it easier to suck the crumbs or animal hair left on the tissues. You can also use a hand-held vacuum cleaner to clean up spilled flour, soil brought by shoes, remove dust from a drawer or shelf, without having to take out and plug in your main vacuum.
The hand-held vacuum cleaner does not replace the classic sled vacuum cleaner for cleaning a home, but fulfills a complementary role for occasional needs thanks to its light weight and its unmatched maneuverability.
Hand vacuums are not equipped with a bag: they contain a dust compartment, which can be cleaned and emptied easily. There is therefore usually no additional expense, except possibly for hand-held vacuum cleaners equipped with a HEPA filter.
How to choose a hand vacuum?
The criteria to consider when choosing a wireless vacuum are:
1. The weight
You will have to handle this vacuum with one hand, so it must be as light as possible so you do not get tired. We advise you not to exceed 1.5 kg, unless you want to do bodybuilding!
2. Battery life and recharge time
With the exception of hand-held car vacuum models that have a cigarette lighter cord, most handheld vacuums are battery operated only , and must be docked for recharging. The autonomy is therefore an essential criterion in the choice of your hand vacuum.
For the classic uses of a hand-held vacuum you do not need a great autonomy, but it is also not necessary that the vacuum cleaner stops in the middle of cleaning. We advise you a range of about 10 minutes. Also check the charging time of the battery: a good battery can be recharged in 3 or 4 hours.

As far as batteries are concerned, most hand vacuums use Lithium-ion batteries for the most upscale models, and NiMh (Nickel Hydride Metallic) type for conventional models. Lithium-ion batteries are lighter and recharge faster (3-8h) than NiMh batteries (16-18h). They are therefore logically found in the most expensive handheld vacuums.
The voltage of the battery gives an indication of the power of the hand-held vacuum cleaner: the first-price vacuum cleaners generally have 3.6 V or 4.8 V batteries, and the most powerful can go up to 12 V or even 22.2 V for the Dyson DC34 .
3. The suction power
Although it is less critical than for a conventional vacuum cleaner, good suction powerreduces the time it takes to clean. Depending on the use, aim for a suction power between 8 W and 30 W. The higher the suction power, the more the autonomy decreases: it is therefore strongly recommended to have a power regulator that adapts the power suction depending on the surface to be sucked.
4. The supplied accessories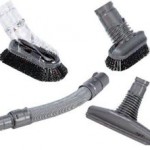 If you have needs that go beyond the "classic" uses of a table vacuum, remember to check that the necessary accessories are present. For cleaning a car it is very useful to have a cigar lighter cord and a long brush to access every nook, and to suck animal hair a rotating brush is a great help.
Other accessories can facilitate the use of your hand vacuum: suction heads of different widths or lengths, extensions, etc … If a model interests you but does not have the accessories you need, check if you can order separately.
5. The sound level.
Handheld vacuums use cyclones to filter dust, so they are all quite noisy: between 70 dB and 80 dB. As they are used only occasionally, this is not very inconvenient and no manufacturer has yet launched a silent hand vacuum model.
6. The price
Finally, the price of the hand-held vacuum cleaner is obviously an important choice criterion. The first models with good value for money can be around 30 €, and the most high-end models can exceed 150 €. Set your budget according to your needs: if you intend to use your hand vacuum only occasionally, there is no point in ruining yourself. If on the other hand you intend to use it every day, a model of quality with well thought out accessories will save you time.
The price range of hand vacuums is very wide, depending on the type of use expected. To help you make your choice, you can consult our selection of the Best Handheld Vacuum for Pet Hair or our comparative vacuum cleaner .